FUNNY FEED IS ALL YOU NEED
With Fun Company socks, you bring an extra dose of fun into your lifestyle – and your wardrobe rejoices. With positivity and joie de vivre, the Fun Company creates everyday things in a colorful and patternful way that make life more cheerful. The company relies not only on trendy colors and motifs, but also on a selection of high-quality materials – for absolute fun inside and out.
Cozy, Boxes &
Advent calendar
Fluffy socks, boxes & a fun advent calendar for the holiday season.
For the first time, the motifs can also be worn under the pants to match the socks.
An eye-catcher: The new slippers from Fun Socks convince with their design.
Ladies' legs are also decorated with funny motifs in the HW 23.
Sporty through the winter with the Function Sport Socks.
Variety in kids: organic cotton socks, creative boxes & home slippers.
Collection overview Fun Socks
Cozy Socks, Boxes & Advent calendar
It's getting cozy in the fall-winter collection 2023 from Fun Socks. We have further expanded the Cozy range and promise cozy-warm feet for young and old. The new double-layer socks with extra-soft inside and colorful knit patterns are perfect for snuggling up on the sofa.
The cool Fun Socks Advent Calendar – in two color versions and equipped with 12 different pairs of socks -–ensures a cheerful Advent season.
Gift boxes for all
Winter begins and suddenly it's Christmas. And again the hunt for gifts is on. Why not just give away pure fun in sock form? Save your customers the stress. Our
3-piece gift boxes
with various motifs, colors and themes are a joy for young and old - and absolute eye-catchers for your sales floor.
The star-shaped box is available with a pair of unisex socks
or also
for kids
– it is even multifunctional and pimps every Christmas tree as a decorative pendant.
NEW NEW NEW
Who says that the fun at the Fun Company is limited only to socks? From HW23 it will also be colorful in the underwear department! And that's for the men. The highlight: The boxer shorts come in a pack with the matching socks – ideal as a gift idea.
In both sizes S/M and L/XL, made of organic cotton, with a soft waistband and a choice of two cool graphic patterns or the classic motifs of fries and burgers.
Order now in the B2B portal
The Fun Slipper
The absolute highlight for the grown-ups in this collection are the cozy
homeslippers
. In Fun Socks typical crazy-cool design, with fluffy insole and easy to slip in, the slippers have absolute favorite slipper potential. The counterpart is of course also available
for kids
– completely closed for a secure hold.
Order now in the B2B shop
Never seen that before!
Fun Socks upgrades the assortment! Now there are not only funny socks, but also tights from the trendy brand. An absolute must-have this season! Comfortable and, how could it be otherwise, with eye-catching patterns, they bring the absolute glam to the legs. Not only do they bring color and prints to the dreary season, but they are also extremely comfortable to wear. Available with
2 Christmas motifs,
2 graphic patterns
and
2 fun motifs,
each packed in a box.
Sporty through the winter
Sports socks by Fun Socks made of organic cotton and recycled polyester with cool motifs are available in fall/winter 2023 for tennis, fitness, basketball and a colour gradient – always in a practical 2-pack consisting of one pair of plain and one pair of patterned socks at an unbeatable price of 15,99 Euro.
Order now in the B2B shop
Fun Socks for funny Kids
Fun Socks has also expanded the range for our little ones. New prints on different themes and new colors are not only perfect for the season, but even more perfect on the feet.
The new gift boxes with fun shapes are the perfect Santa Claus or Christmas gift.

It's not a no match
–
It's a Mix & Match
MIX & MATCH PRINCIPLE: The 2-packs of Fun Socks consist of a pattern and a plain pair – perfect to combine the styles as you like! Works of course also with the boxes, there you have even more combination possibilities.
SUPER SHARP: Thanks to a special knitting technique, the pattern is particularly fine and very easy to see.
SUSTAINABLE: Soft organic cotton is not only good for the environment, but also particularly comfortable to wear.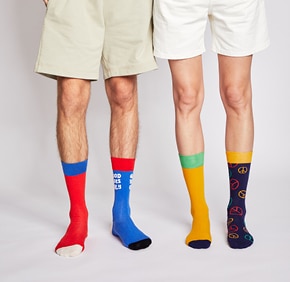 DIScover now
Unisex organic cotton Graphics Socks 2p
Fun Socks
FU71114
RRP €9,99
---
---
Unisex organic cotton Motifs Socks 2p
Fun Socks
FU71113
RRP €9,99
---
---
Unisex function Sport Socks 2p
Fun Socks
FU71126
RRP €15,99
---
---
Discover the complete collection
You do not have access to our B2B shop yet?
Register here – for all brands and articles at one click!
---
---